A common question homeowners always ask when they reach out to get a new roof is, "How long does it take to replace a roof?"
And the short answer is usually within one to a few days for simple removal and replacement. In truth, many factors come into play when determining how long it will take to replace the roof. Size, material, weather, and the complexity of the install can all affect the timeline. And when the time comes to get a new roof, you want it done well and done fast. So let's dive in and find out just how long it takes to replace a roof.
How Long Does it Take to Replace a Roof? (Determining Factors)
The average home has a 2,000-3,000 square foot roof and, in general, will be able to be replaced in a day, or up to 5 days for more complex cases. Here are some factors that can lengthen that timeline.

The Time of Year
Most roofers are only going to install your roof in the nice months between spring and fall. Summer is jam-packed for many reasons. In summer, the weather is better to install certain materials that can constrict in colder weather. Also, the longer days allow for around 15 hours to complete a roof install, making it highly likely to be done within one day.
Many contractors don't even stay open in the winter months because business is so slow. However, it can be possible to do roof work in the cold, but it can be hazardous, and shingles may not install appropriately.
Inclement Weather
Despite summer being the busy time for roof replacement, it can also be very hot, creating poor working conditions for the contractors and unideal for installing certain shingles. Hot weather, freezing temps, rain, and snow can all delay your roof install by a few days. And because roofers have full schedules, if they have to put off your job, it can be difficult to schedule you for a make-up date quickly.
How Complex Your Roof is
Your roof's complexity can complicate the installation, especially if there are multiple hips, valleys, and a high peak. The higher the peak, the more difficult it can be to install, plus it requires a lot more safety equipment to manage the steep slope. Valleys, peaks, and dormers all need to be sealed with flashing and sealant, which adds a lot of extra time to the install, thus driving up the labor cost. A more complex roof may take up to three days to complete vs. one for a simple installation on a less complex roof.

Accessibility of Your Roof
When a roof is hard to access, it complicates the entire process. A house with a lot of landscaping around it will require extra care to cover and protect those plants and bushes with tarps and limits where debris can be tossed from the roof. Also, a paved surface must be readily available to safely place a ladder to the roof's access point, so contractors can quickly and easily get up and down without trouble. Lastly, if there is no place to put a dumpster to toss materials, roofers may need to come down more often to dispose of materials when they can't easily toss it down to the dumpster. These small details can really add up the time and increase how long your project will take.
The Size of Your Home
It may go without saying that the bigger your home, the bigger the roof, and the longer it will take to install. Not only will an extra-large roof take another day to install, but it will also drive up the cost of materials if you are doing a full replacement. Plus, larger homes often have many complexities like more hips and valleys, which complicate the installation.
Any Structural Damage
A home with any structural damage (known or unknown) will definitely increase how long it takes to do the installation. If a roof is being replaced due to storm damage, this is definitely possible that structural damage had also occurred and needs to be fixed before laying the new roof. Other times, the contractors may remove your old roof to find water or mold damage underneath, and those issues must be addressed before moving forward.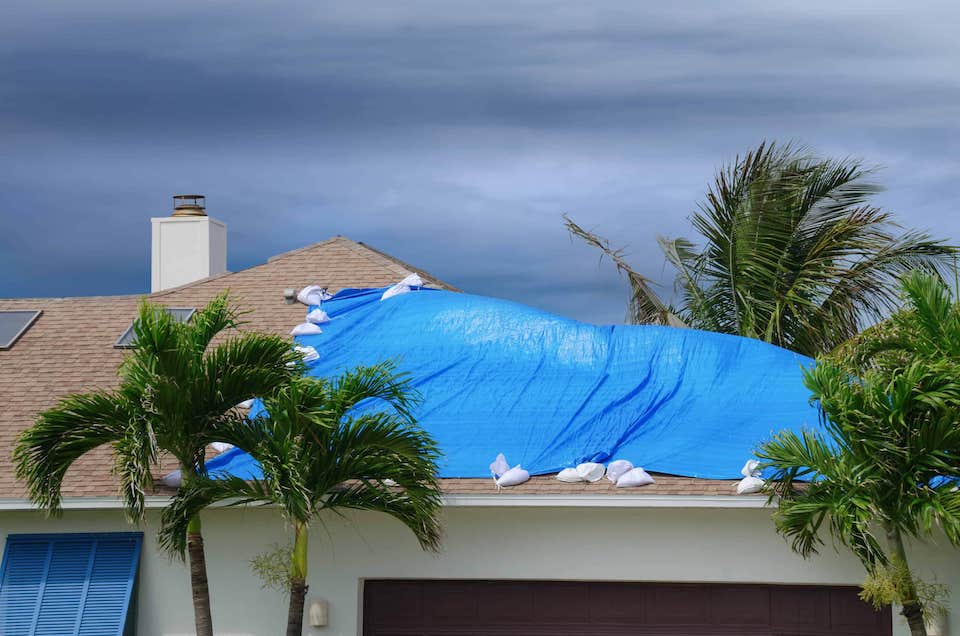 How Long Do the Most Common Roofing Materials Take to Install?
Different roofing materials can have vastly different installation procedures and techniques, which can drastically affect how long it takes to install them. Many need perfect weather conditions and complex tools or techniques to ensure a perfect installation. Also, asphalt shingles can easily be hoisted up in large rolls, making it easy to transport the materials up on the roof. On the other hand, metal or slate tiles are much heavier, and that will change the entire process of both getting the materials up on the roof and installing them safely. It will likely require much larger tools and machinery to do so. Here's an average timeline for different roofing materials, from shortest to longest.
Asphalt Shingles: 1 to 3 days.
Metal: 2 to 3 days.
Membrane Flat Roof: 3 to 6 days.
Wood Shingles: 6 to 8 days.
Slate Tiles: 6 to 7 days.
Concrete Tiles: 8 to 9 days.
The sturdier roofing materials like metal and slate are also much more expensive in general, not including the cost of labor. But, that investment will last you for decades longer than any asphalt shingle roof, which is very easy to install but will be replaced more frequently.
If you're in the market for a roof replacement but don't know where to start, we are here to help. Our simple 3-step process will include an estimate, a design discussion, and finally, seamless construction to get you the roof you deserve. We can help you decide which material is best for you and create a tight timeline to get your roof replaced in no time so you can get back to your life. Contact us here to get started today!