A DIY roof replacement is often a larger project than most homeowners are willing to take on. However, it doesn't stop the ambitious DIYers.
From small bathroom remodels to completely tearing out and replacing kitchen cabinets and floors. These can all be done with a little bit of research and maybe an experienced friend to help you out. But overall, people can learn pretty quickly how to DIY some projects around their house, but is roofing the same? Can you, or should you, do your own roof replacement?
DIY Roof Replacement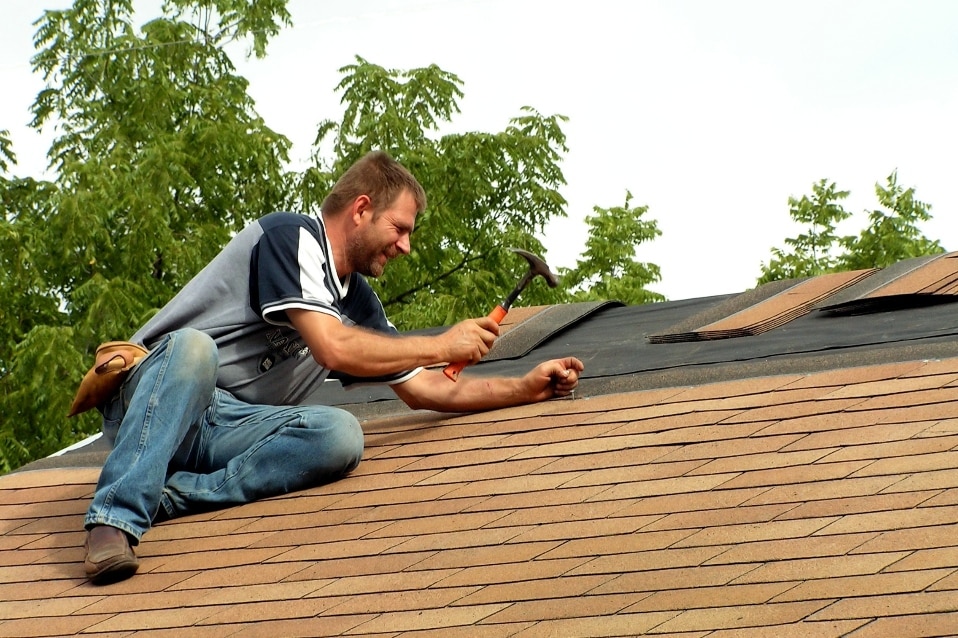 There is no doubt that roofing is tough work. This is why most homeowners will hire a team of contractors to do it in a matter of days, rather than attempt to DIY. People with experience working with tools and maybe even prior roofing experience may want to DIY their roof replacement. It's definitely possible, but there are several things to know before you consider doing that. Everything from the tools and materials needed, to taking the proper safety measures to ensure no one gets hurt.
Required Tools & Materials
These are the tools and materials you'll need to install an asphalt shingle roof. If you don't have some of these tools on hand, you can often rent them from your local hardware store if you prefer not to purchase them.
Tools:
Air compressor & air hose
Caulk and caulk gun
Circular saw
Extension ladder (long enough to extend 3-feet past roof edge)
Nailer
Roofing safety harness
Roofing stapler
Scaffolding
Straightedge
Tip snips & utility knife
Work gloves (flex-grip)
Materials:
Asphalt shingles
Drip edge
Felt underlayment (#15 or #30)
Hook blades
Roofing nails
Sealant
Self-adhesive waterproof underlayment
Staples
Step & Dormer flashing
Valley flashing
Vent flashing
How to Remove and Replace Your Roof
There are a few steps to take before you even start to install your roof. This includes stripping off the old roof completely, plus setting up some tarps to protect your landscaping, as well as renting a dumpster to get rid of your old roof scraps. You may also be able to use a pick-up truck bed and haul it when you're done. But, depending on the size of your home, you may end up with a dumpster's worth of junk.

Removing the Old Roof
You will not be able to install your new roof without completely removing all of the prior shingles, flashing, and nails. Any remaining materials, particularly nails, can immediately puncture and damage your new shingles. So, either remove all nails or hammer them down flat against the roof.
Cover any plants and landscaping you want to protect from falling debris using a tarp.
Move any breakable items away from the sides of the house.
Rent a dumpster large enough to hold your old roof's contents.
Tear off your old shingles and all nails, flashing, underlayment, etc.
Installing the New Roof
Install the drip edge.
Roll out the self-stick underlayment, then pell off the bottom backing.
Cover the underlayment with felt/tar paper, using a staple hammer to adhere it. Place staples no more than 12 inches apart, as it can come loose, or you could trip.
Overlap the tar paper at the roof's peak and again on the other side.
Roof valleys are sensitive spots susceptible to leaks, so install secure flashing on all valleys.
Also, install flashing on the roof's peak, and cut the excess off. Use your self-stick underlayment to cover the cut edges.
Install your started shingles on the bottom and work your way up. These will start 1/2 inch overlapping the drip edge and gutters.
Use your roofing nailer (which you can rent) to install your asphalt shingles, row by row, overlapping every single row. Make sure to install them running over the edge of the row, never short. Cut off the excess when you are finished using your hook blade tool.
Install step and dormer flashing around your chimney, skylights, and other structures on the roof.
Install your vent flashing and install your shingles over the flashing for a flush look.
If needed, cut the holes for your attic vents.
Cap the ridge/peak of the roof by installing your shingles perpendicular to the shingles on each side.
Lastly, seal all of your exposed nails and edges with your sealant.
Clean up the roof and safely get down.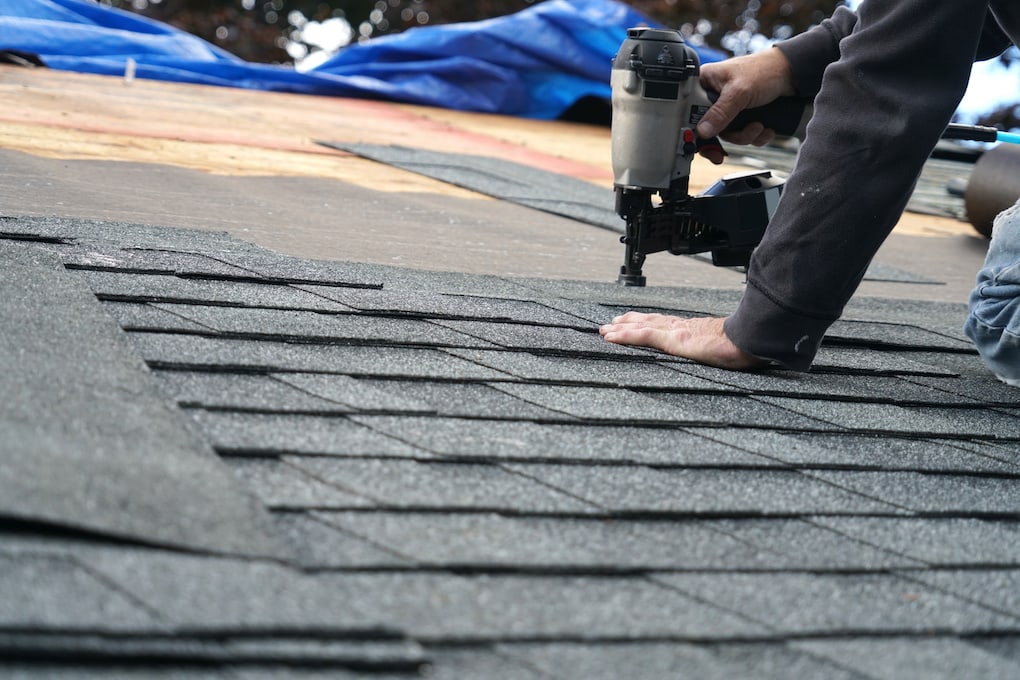 Pros & Cons of DIY Roof Replacement
Pros of DIY Roof Replacement
If you're on a tight budget, you can save quite a bit of money. Labor is what is so costly, so purchasing just the materials and tools can mean saving a lot of money overall.
You can work on your own timeline. You won't have to worry about finding the time to have contractors come to your home and be inconvenienced.
You will take pride in accomplishing such a huge home project on your own. Homeowners love the feeling of taking on and successfully completing another home project.
Cons of DIY Roof Replacement
Contractors typically have deals with shingle manufacturers and can get better deals on higher quality roofing materials. If you are planning the DIY route, you might have to either pay more for your materials, or settle for a lower quality shingle.
If you are not a handyman, you probably don't have the tools necessary to do the job efficiently. This can substantially increase the cost of your project.
Without an expert roofer, you can end up making mistakes or poorly install the roof, ending up costing you even more money, later on to repair or replace your roof. If you have a fairly complex roof, there is a higher chance for mistakes and will take much longer to do correctly.
It will probably take you much longer to install your roof, especially if you work M-F and find yourself only available on weekends to work. Not to mention it can be a hassle to get your friends and family involved to help.
In cases where the installation takes longer than expected, it can leave your roof exposed and susceptible to damage by the elements. If there is any bad weather on the forecast, make sure you have a tarp ready to cover any exposed parts of your roof.
Large projects like this can be very stressful and cause arguments with family or friends helping you get the job done.

When to Hire a Professional Roofer
If you have some prior experience, have the tools, and have a fairly simple roof, then DIY might be a good option to consider. Especially if you have friends and family at the ready to help you get the project done fast. But in most cases, we recommend hiring a professional roofing contractor. This will ensure your roof is properly protected and you won't have anything to worry about. Not to mention, you won't have to spend your evening or weekends working on a hot roof!
Making the Best Decision for Your Home
Although you can replace your own roof, we always recommend hiring a professional roofer. like Secured Roofing & Restoration. What you get when you hire a professional, you get major benefits, including more safety measures, faster turnaround time, and amazing warranties on both labor and materials. Plus, they'll take care of hauling away all the junk and disposing of it for you. All of those definitely make it worth the added cost of paying for professional work done in a matter of days. And don't fret about giving up any creative vision; you will always be able to work closely with your contractor to get exactly the roof you have dreamed of for your home. Contact us here to get started!